Beatles in Belgium
---
---
Maak kennis met de volledige Belgische Beatles Discografie 1964 – 1981 op de labels Polydor, Odeon, Parlophone, EMI en Apple. Klik op de thema's in de sidebar en ontdek de Belgische Beatles Discografie.
Rarity Index:
* Gemakkelijk te vinden
** Moeilijk te vinden
*** Nogal zeldzaam
**** Erg zeldzaam
***** Waw…heel erg straf, dat je deze plaat hebt. Draag er zorg voor!


Discover the complete Belgian Beatles discography 1964 – 1981 on the labels Polydor, Odeon, Parlophone, EMI and Apple. Click on the sidebar and discover the Belgian collection.
Rarity Index:
* Easy to find
** Hard to find
*** Rare
**** Very rare
***** Waw… how on earth did you manage to find this record? Take care of it!
---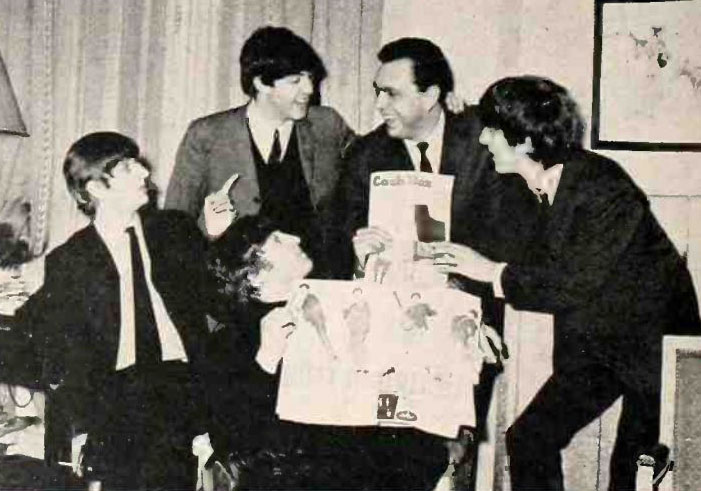 Frans Romeyns, BRT journalist en producer van het jeugdprogramma Tienerklanken, is één van de eerste Belgen die The Beatles ontmoet. Hij interviewt ze eind januari 1964 in suite 120, in hotel George V te Parijs. The Beatles waren in Parijs voor optredens in zaal l'Olympia tussen 16 januari en 4 februari 1964.
Frans Romeyns, journalist for the Belgian Radio and Televison (BRT) is one of the first Belgians to meet The Beatles. He saw them in january 1964 in Paris, during their stay in suite 120 at the George V hotel. The Beatles performed at the Olympia theatre from 16 january – 4 february 1964.
Beatles in Belgium? The Beatles als groep hebben nooit live opgetreden of verschenen in een TV-show in België. John Lennon lijkt de enige die ooit in ons land was in de 60ties.
John Lennon is quasi zeker, samen met road-manager Neil Aspinall, in Brussel – Centraal gepasseerd op donderdagavond 15 september 1966 toen ze met de trein van Hannover (Duitsland) naar Parijs spoorden. John Lennon was in Duitsland voor de opnames van de film How I Won The War. John en Neil wilden de vrijdag en zaterdag in Parijs samen met Paul McCartney en Brian Epstein doorbrengen. Op maandag 19 september 1966 stond John op de filmset in Almeria (Spanje) voor de verdere opnames van de film How I Won The War.
Beatles in Belgium? The Beatles – as a group – have never performed live or appeared in a TV show in Belgium. John Lennon was the only one who was in Belgium in the sixties.
John Lennon travelled by train through Belgium (via Brussels Central Trainstation , along with road manager Neil Aspinall, on Thursday evening 15 September 1966. They travelled from Hannover (Germany) to Paris by train. John Lennon was in Germany for the filming of How I Won The War. John and Neil wanted to spend friday and saturday in Paris with Paul McCartney and Brian Epstein.
On Monday, September 19, 1966, John was already on the film set in Almeria, Spain, for the further shooting of the film How I Won The War.
Een paar jaar later, op maandagavond 24 maart 1969, zal John Lennon samen met Yoko Ono, incognito in een witte Rolls Royce, met nummerplaat EUC 100C, effectief door België rijden van 'Paris to the Amsterdam Hilton'. Omstreeks 16u30 vertrok het pas gehuwde paar vanuit Parijs. Yoko Ono was niet op haar gemak. In 1968 was ze in België, bij verstek, veroordeeld nadat ze eind december 1967 in het Casino van Knokke-Zoute naakt op scene was verschenen tijdens het erg controversiële avant-garde filmfestival 'Exprmntl'. Ze zijn via Rijsel-Kortrijk-Gent-Antwerpen tot aan de Nederlandse grens gereden. Om 22u15 arriveerden ze aan de Belgisch-Nederlandse grensovergang Meer-Hazeldonk. Van daaruit reden ze naar het Hilton Hotel in Amsterdam.

A few years later, on Monday evening 24 March 1969, John Lennon and Yoko Ono, incognito in a white Rolls Royce, with license plate EUC 100C, will effectively drive through Belgium from 'Paris to the Amsterdam Hilton'. Around 4.30pm the newly married couple left Paris. Yoko Ono wasn't comfortable. In 1968, she was convicted in Belgium after appearing naked on scene at the Casino of Knokke-Zoute at the end of December 1967, during the highly controversial avant-garde film festival 'Exprmntl'. They drove through Lille-Kortrijk-Gent-Antwerp to the Dutch border. At 10.15pm they arrived at the Belgian-Dutch border crossing Meer-Hazeldonk. From there they drove to the Hilton Hotel in Amsterdam.

---